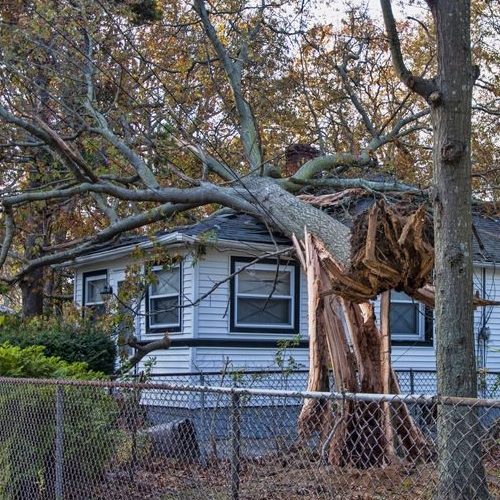 Does Homeowners Insurance Cover Tree Removal After Storm?
We depend a lot on our trees to provide us with shade, better air quality, prevent soil erosion, and to add more value to our property. Because of all they can do, it can be devastating when a tree is damaged during a severe storm. Typically, trees are damaged due to lightning and severe winds. Not only can a storm-damaged tree reduce property values, but it can also damage our homes in the process. When lightning strikes a tree or a wind overturns a tree, there is a big possibility that it can fall onto our home or other property.
Many people wonder if their homeowner's insurance will cover the cost of damages to the tree, but that is not the case. Another thing that people wonder is, "Does homeowners insurance cover tree removal from storm?" Most insurance policies out there will cover damages and removal if the tree topples over due to strong winds and hail. If the tree falls on your fence or on your garage, then your insurance might not necessarily cover the damages. It's important to note that there is a caveat when it comes to insurance covering storm damage tree removal and damage. If the tree needed to be removed before the storm occurred and wasn't, then you might have to pay for the cost of removal and damages.
In the event that a tree on your property falls onto your home during a storm, it's important to know what you should do. So what to do if tree falls on house during storm? Here is a step by step guide of what you need to do.
Get Out of the House: If a tree lands on top of your house, you will want to leave your home right away and get to a safe place.
Contact the Police: This is a dangerous situation to be in, but by calling the police they can dispatch the fire department or someone from the utility department to make sure your home is safe from fires or electrical issues, as well as checking your power.
Call Your Insurance Provider: The next thing you will want to do is call your insurance company to see if your insurance covers this type of damage.
Communicate with a Roofer: Most likely a tree will fall on your roof, so you will need to call a roofer for roof storm damage repair.
Get Storm Damage Tree Removal: Whether a tree has fallen on your roof, in driveway, or fence, you will need an arborist to come out and provide storm damage tree removal service.
What Happens If My Neighbor's Tree Falls in My Yard?
In a situation where a severe storm causes your neighbor's tree to fall in your yard, you might wonder what steps you should take. If your neighbor's tree falls onto your property, all you need to do is call your insurance company. After your deductible has been met, your insurance provider should be able to cover the cost of storm damage tree removal, as well as damages to your property. In a reverse situation, people ask, "Who is liable if my tree falls on my neighbor's property?" If your tree falls onto their property, then they will need to call their insurance company to cover the cost of damage and tree removal. The only times where you would have to cover the cost is if the storm was pretty minor and the tree fell over. This can only mean that the tree was diseased, unstable, or dying, so you would be responsible since the tree was already weak.
How to Repair Storm Damaged Trees
Trees that are harmed during a storm can be saved if the damage isn't too severe. There are ways to repair the tree so that you can keep your tree intact. If a tree has a broken branch, then you can prune other branches in order to prevent damage. If there is a small split in your tree, you can leave it alone to heal on its own. In the case of a medium split, then you can even out the bark to make sure it heals. In situations where there are branches that are hanging, the canopy is uneven, you can see the roots of the tree, or the tree is completely toppled over, then you need to call a professional arborist for services.
Storm Damage Tree Cleanup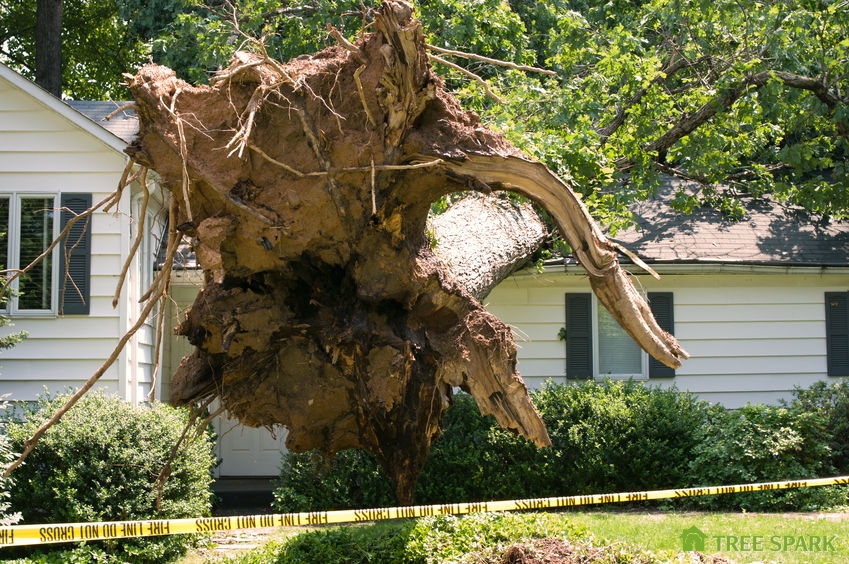 Storm Damage Tree Removal Cost
When a tree in your yard has fallen onto your property, you will need to get in touch with tree specialists for help. The cost to remove storm damaged trees ranges from $150 to $1,000, but you can contact your insurance provider to see if your policy covers storm damage tree removal and damage. For storm damaged tree cutting and storm damage tree removal in Fort Worth, TX, contact Tree Spark! We are able to provide tree excavation services in order to remove storm-damaged trees. To talk with one of our arborists about this type of service, please call us at (817) 717-7737!