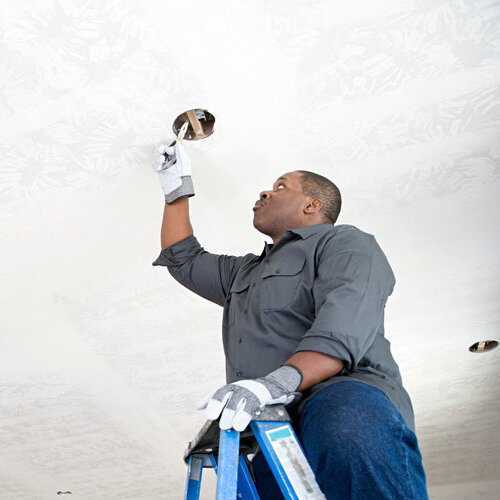 The Importance of Pro Electrical Repair
The responsibilities that come with owning a home can be challenging, overwhelming, and downright scary sometimes. Especially when it comes to electrical wiring! If you don't know what you're doing with electricity, you can burn up whatever you're working on, hurt yourself, and worst of all, catch the house on fire. This is why it is best to call on a professional electrical repair service company.
What are electrical services?
One of the most common causes of structural fires in our country is electrical issues. Making that the third highest-ranking cause is in part because of the DIY mindset many of us have gained.
If you're changing out a lightbulb, that doesn't require professional electrical repair service. However, if you're needing any of the following electrical work done, it is best if the job is handed over to pros that offer electrical repair service for a living. These are the people that have been through training to become certified and licensed. They will have the electrical repair equipment to do the job right. A licensed and trained electrician can service commercial and/or residential properties with any of the following: 
Electrical set up and rewiring
Electrical panel installation, upgrading, and replacement
Surge protection for the whole house
Outlet installation and repair
Ceiling fan installation and repair
Light fixture installation, replacement, and repair
Carbon monoxide and smoke detector installation
Exhaust fan installation
Hot tub and pool electrical wiring
Safety inspections
All electrical maintenance and repairs
What is residential electrical service?
Yes, electricity is electricity, but there are different needs for commercial property and residential property. Electricity is a continuously flowing current that is always there. Your electrical panel controls how that electricity flows so that nothing is overloaded or underpowered.
Every building will have different needs for its electrical loads, with major differences between commercial and residential structures. The differences between these two properties are the wiring type and the power. For residential property, the wiring is narrow with a plastic sheathing vs commercial wiring, which is typically in a plastic conduit. The power for a residential structure is delivered at 120 volts, while a commercial property has three phases of delivery.
When it comes to professional electrical repair service, a trained electrician will have the basics for anything electrical, but there is a different set of skills needed between commercial and residential properties. A residential electrician that works in residential structures will install and maintain, inspect, and repair all electrical components, systems, and wiring. They are trained at diagnosing problems in residential electrical systems and wiring, and 120-volt power.
What do I need an electrician for?
Electrical changes, connections, and upgrades aren't straightforward DIY projects like painting, hanging wallpaper, or installing new hardwood floors. The wiring, the circuits, the outlets … Oh My! Sometimes, hiring a professional electrical repair service may cost a little bit but what a relief to know it was done right! You can typically get electrical repair quotes so you know what to expect before starting a project.
Electrical items are part of a complex network of wires that can present hazardous charges. Diagnosing problems with electricity isn't always easy, or safe. A few things that you may want to get a few electrical repair quotes before you attempt the job yourself include:
Installing a New Electrical Outlet/Switch
This task may seem like a DIY project, and maybe your dad replaced a pre-existing outlet/switch with no problems. But when it comes to installing a new outlet or switch, there are wires to be run through the walls, and if you aren't experienced in circuits and wiring, then you're risking yourself and your home for possible hazards.
Replace Wiring
Again, this job is a little risky to attempt as a DIY project. Hiring a professional electrical repair service is the best way to make sure the wiring is done correctly on the proper circuit and without worries about an electrical fire starting.
Recessed Lights Installation 
Recessed lights involve a lot of wiring to be moved around, and if you don't know —a job a pro will have a much easier time handling. If your home is equipped with pre-existing recessed lights, feel free to replace them on your own. This is easy for any homeowner to do because there's no need to sort through or add extra wiring.
Broken Circuit Breaker
A broken circuit breaker is important – this is the heart of your home's electrical system and before you try repairing it, think whether you want a DIY project working on your heart. Let the pros do this and call a professional electrical repair service.
Outdoor Lighting Installation
Taking the electrical project outdoors, you definitely need to hire a qualified professional electrical repair service to do the job! Not only is it electrical, but it is outdoors where rain and water sprinklers can get to it. If you don't know how to wire an outdoor set-up so that it isn't overloading the circuit and still be waterproof, this is not the DIY project for you.
What is the most common cause of electrical problems?
The electricity to your home isn't just a convenience today, it is a necessity. Three of the most frequent problems that homeowners have with electricity are: 
Circuit Breaker Problems
The circuit breaker in your home is essential in your home having electrical power. Overload the circuit or short circuit and you could find yourself sitting in the dark. When a circuit breaker trips and shuts off the electricity, it's doing its job by not letting the electrical system overheat. This keeps it from catching on fire too. So, if your circuit breaker is tripping frequently, call a professional electrical repair service and don't try to figure it out yourself.
Dips, Surges, or Sags  
Electrical surges are the same but different from electrical dips and sags, but in any case, they all represent a problem, just different problems. It could be just a brownout instigated by the power company, or you could have something more serious if it is repeatedly happening. Again, call an electrical repair service to inspect the situation.
Scarce or Dead Outlets 
A common problem in older homes is not enough electrical outlets for today's family lifestyle. However, just installing new outlets isn't the right way to fix this situation. You need to make sure the circuit system doesn't get overloaded, meaning, a new circuit breaker may need to be installed. This isn't something for the non-experienced DIY homeowner to attempt. The same is to be said about replacing a dead outlet.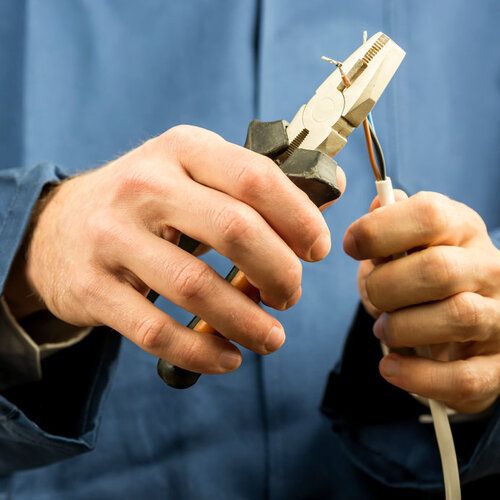 Can you repair electrical wires?
If you have a soldering iron and a steady hand, yes, you can repair a wire that has been cut in half or one that has a few strands of wiring hanging out. This will definitely save you some money if you can do the work yourself. Seal it up with electrical tape and make sure you unplug the soldering iron when you're done.
While DIY projects look easy on television, remember that they have crews behind the scenes doing a lot of the work. They have experienced contractors and electricians that know how to do electrical installations and how to do electrical maintenance. They have also been trained and if they're working on a television show, they probably have experience!